Pop Up Stands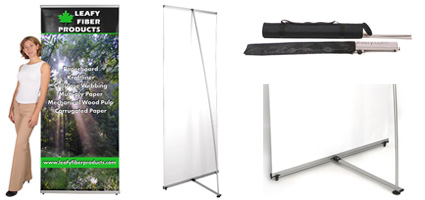 Pop up banner stands, which are also commonly known as spring-back banner stands, are extremely portable displays that can be used to present your products and services at trade shows, sales meetings, and other corporate events. They are the lightest type of banner stands available, making them easy to carry and transport.
Pop up banner stands have a series of poles that make up the frame work to support the banner, and the banner attaches at the top and bottom with grip rails. Set up and take down can be done in a matter of minutes. The banner is normally rolled up separately from the poles to help keep it protected during transport.
Our pop up banner stand display graphics are printed at 720 dpi resolution onto a premium, super-smooth vinyl that has proven to be very durable and has virtually no edge curl at all. Fabric banners are available upon request, but we highly recommend our super-smooth vinyl as the print medium for pop-up banner stands.
** All prices shown below INCLUDE a full-color vinyl graphic and padded carrying bag **
---
Showing 1 to 1 of 1 (1 Pages)