Retractable Stands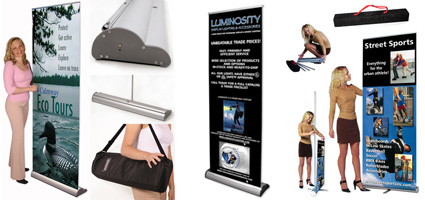 Retractable banner stands, which are sometimes referred to as roller or roll-up banner stands, are light weight and portable display solutions that are ideal for trade shows, exhibits, sale meetings, office lobbies, or anywhere you need to showcase your products and services. Because of the retractable base unit, retractable banner stands are very stable and the graphic is protected during transport.
Retractable stands work much like window shades in reverse. The graphic retracts into the base unit, which sits on the floor. To set up the display, you simply pull the graphic up from the base unit and attach the graphic to the pole extending from the base unit in the back. To take the display down, you just unhook the graphic from the pole and let it retract into the base. The pole folds up for easy storage and transport. Set up and take down can be completed in under 2 minutes on all of our retractable banner stands.
Our retactable banner stand graphics are printed at 720 dpi resolution onto a premium, super-smooth vinyl that has proven to be very durable and has virtually no edge curl at all. Fabric banners are available upon request, but we highly recommend our super-smooth vinyl as the print medium for retractable banner stands.
** All prices shown below INCLUDE a full-color vinyl graphic and padded carrying bag **
---
Showing 1 to 14 of 14 (1 Pages)